---
Metropol catches up with award-winning interior designer Angelique Armstrong about supporting local and plans for Armstrong Interiors moving forward.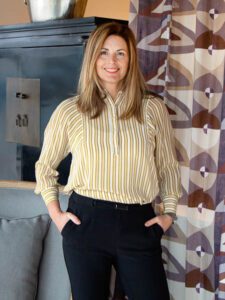 The vibe in the studio is buoyant and positive.
"I get so much joy from being surrounded by our inspiring Work Room environment; the colours and textures, my staff and wonderful clients," Angelique says.
The team at Armstrong Interiors are looking ahead with enthusiasm.
Although working from home had its challenges during lockdown, it gave them an even stronger desire to get back to work, because that is what they love doing – being together, and creating beautiful spaces.
Angelique has long been a supporter of 'buy local' and loves the phrase 'back your backyard'.
"Going forward I have no hesitation on continuing to support our local manufacturers and fabricators. We have beautiful New Zealand designed products in all aspects of design and manufacturing. I encourage you to think twice and make a conscious decision when shopping. When you buy New Zealand products, you not only buy quality, you are supporting a local business.
"Armstrong Interiors is boutique in size, which allows us to really get to know each and every client. Working closely to my clients' briefs; I present mood boards, floor plans, product boards, and source furniture, art, rugs, wallpaper, lighting and accessories options. Our in-house CAD designer creates 3D images of kitchens, bathrooms and joinery. She creates plans for you to review throughout the design process, which will then allow you to see the end result."
Armstrong Interiors proudly offers a bespoke design service.
This means you can select the size, material and colour of your choice, to best reflect your style and space.
Angelique's passion for design and a love of all elements related to interior design, art, furniture design, product design and textile design enables her to create exclusive items.
"I love to create beautiful unique pieces in collaboration with our clients."
A monthly newsletter has recently been launched, featuring the latest news, designs, and interesting updates on what is happening in the Interior Design world.
Email or phone the office to be added to the mailing list.
To find out how the team at Armstrong Interiors can help you with your next interior project, and make a time to discuss the options available.
Phone 03 356 2636 phone, email office@armstronginteriors.co.nz or armstronginteriorsltd on Instagram.
---