---
Understanding colour, having good taste, and knowing how to select individual elements to create a beautiful and inviting whole is not something that can be taught. It comes from the heart, it is innate and, combined with attention to detail plus a natural empathy with clients, it leads to an interior design house of the calibre of Christchurch's own Kit and Caboodle.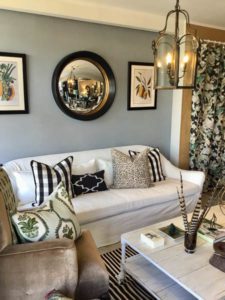 At the studio, Alex Marie and Andrea Tudehope have created a temple of gorgeous fabric, furniture and finishing touches that are just a tempting hint of the luscious comfort that they can create for your home.
Inspired by the great designers, Alex and Andrea follow the William Morris ethic – that you should not have anything in your home that you do not believe to be beautiful or useful.
European designers such as David Hicks, Robert Couturier, Colefax and Fowler, and more latterly the Americans such as Albert Hadley and Daniel Romualdez have shaped their approach.
Distilling the giants of interior design and adding their own flair has created an ethos of comfort and soul at Kit and Caboodle, which means they are well on their way to becoming one of the 'greats' themselves.
While never trend-driven, "it does follow that fashion in clothing design filters down to influence things that are happening in interior design," Andrea says.
For them it's about layering to get a beautiful room to come together.
"A beautiful room must be personal; it must never look like a 'stage set' and we would never fit out entirely in one brand," Alex says.
"Not everyone gets everything new," Andrea says. "We often work from at least one existing item that is staying in the room, such as a work of art or a sofa."
If they are working with a blank canvas, they start with floor, walls, and curtains.
"We begin with the most expensive items and then it is about layering to create the intimate and comfortable style of life, with accents or surprises to stimulate the senses," Alex explains.
Freshening up antique or classical style furniture with contemporary fabrics or with bright colours is a passion, and this is a delicious task to undertake with clients given the huge range of fabrics available.
New Zealand agents for the stunning range from Melbourne, Nine Muses Textiles, the gorgeous fabrics are suitable for all furnishings including upholstery, curtains, lampshades and cushions.
Printed onto Libeco Belgian Linens using digital technology, artist and director of Nine Muses Tigger Hall has hand-painted every design, bringing the imperfections and colour variations, while keeping the aesthetic and beautiful feel of traditional textile processes.
"There is something for everyone, modern and contemporary colour juxtapositions through to traditional colour palettes," Alex says.
"The range feels fresh and clean, and we've done some lovely projects with it over the years," Andrea adds.
---