---
New Zealand made smart home system, ECONX, is an easy-to-use app from an innovative Kiwi success story, according to happy local customers.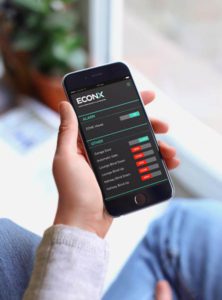 Providing reliable security and automation in a simple, affordable and convenient manner directly from your phone, ECONX connects everything from security, doors, heating and lighting, so you can control them from anywhere in the world.
With first-hand experience of the system, Christchurch customers Tim and Catherine Talbot describe ECONX as good value for money, and "so easy to use".
You can set it up on your computer then forget about it! You control it with the app and you can easily make adjustments to suit changing requirements.
Plus, you're able to give access to people through the app when no one's around, and keep a log of entries and exits."
Catherine says installing ECONX was one of the first features they decided to include when building a new home.
They both rate it as the easiest way to control heat pumps and the integrated alarm system also includes smoke detectors.
"We've noticed cost savings, as all the towel rails and underfloor heating are all on timers so you can make use of off-peak power.
You even have the power to turn the lights on before you get home."
They're just so easy to do business with, Catherine says.
"Anthony always has time for you, no matter the simplicity of your questions, and wrestles with any challenges until they're resolved to everyone's satisfaction.
"ECONX always includes your thoughts and input into the ongoing development of the product."
---