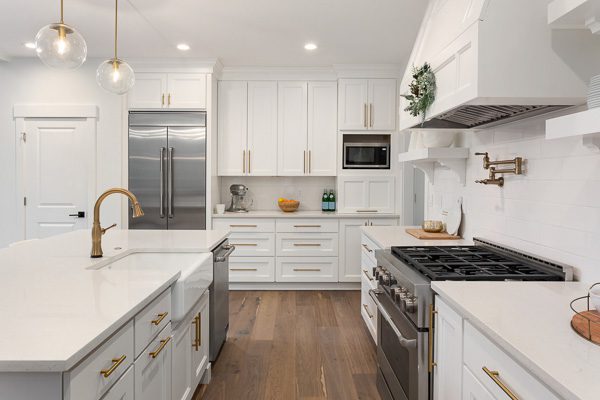 Revitalising Your Most Used Space: M F Turnbull
---
Thirty-one years and counting – that's how long M F Turnbull has been finishing furniture and joinery in Canterbury and beyond.
With an expanded facility, Kitchen Renewal is a new division of M F Turnbull that specialises in refurbishing kitchens and furniture. No matter what the current finish of your kitchen, it can be repainted or refinished to a colour and look that you want. Even pre-finished boards such as melamine, despite the common belief that it can't, can be refinished. When it comes to kitchens, often the most used space in the house, people don't realise that with some relatively small changes and a quality refinishing, you virtually get a new kitchen, says Co-Owner Monique Turnbull. "Very often, kitchens are really well designed," she says.
So if you are staying with the same layout, you could make small changes, like removing unused overhead cupboards or replacing a cupboard with a set of drawers, she says. With a refinish on the cupboard doors, drawers and benchtops, new handles and hinges, your kitchen is totally transformed. Not only is this process cost effective, it is much more friendly to the environment, creating less waste as many pulled-out units end up in landfills. This has become a particular focus for M F Turnbull – Kitchen Renewal. Specialising in making the old new again, the 'reduce, reuse, recycle' model is at the core of the business.
It also applies to so much more than just kitchens. Any piece of furniture can be revitalised; heirlooms or that tired old coffee table that you like but needs either a new stain or a new colour. Chairs, side tables, drawers and more can be brought up to date to suit new décor. Individual pieces or entire suites can be revamped and revitalised to any colour or look. In their 31 years, the team at M F Turnbull has saved some very unique items, things that may otherwise have been consigned to the trash heap; items such as filing cabinets, desks, or even things like pianos. In one instance a treasured vase was given a new look to bring into line with a new décor.
Steve Baker is the Manager at M F Turnbull. His experience and expertise is called upon to advise clients of just what is possible. If you know what you want, he is able to guide you through the process and achieve your goals. If you don't know what you want, he can have a look at your existing kitchen and offer advice on what can be done. Often, he and the team can suggest options you may not have considered.
With a free consultation and quote, and a fast, efficient removal and reinstallation process, your kitchen can be looking bright and new in as little as ten working days. Contact the team at www.kitchenrenewal.co.nz or www.mfturnbull.co.nz.
---