---
It's no secret mid-century modern aesthetics have been trending for some time now, with natural woods and modular forms a popular choice for those wanting to inject sleek and timeless elements into living spaces. Defined by craftmanship and rounded shapes, mid-century furniture is functional and simple, and is the perfect accompaniment to more modern interior looks, too.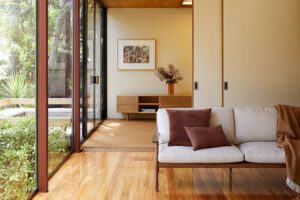 As the name would suggest, the style stems from post-war (1950s) until the 1960s, and is characterised by dark walnut, timber veneer and credenza.
The décor has resurged in recent years, though in its contemporary form it often includes house plants (a very '70s vibe), minimalist artwork (hello, scandi chic), and bright pops of colour (a nod to the late '60s).
The beauty of mid-century furniture is that it can be sourced as antique, second hand or simply made more recently in the style of old. In fact, Trade Me reported more than 10,000 searches for mid-century furniture in the first week of April.
While some of the more forward-thinking design aficionados might have had their fix of mid-century modern, experts are predicting the trend won't disappear completely this year, but make more of a slide both forward towards the '80s and back to Art Deco times.
If you seek to add mid-century chic to your home, there is no need to recreate the set of Mad Men, instead, perhaps a peg-legged dining table and chairs, modular buffet table or pair of dark wood lounge chairs will inject a little nostalgia.
---