---
Comedic minstrel Tim Minchin is set to raise the roof at the Christchurch Town Hall on Friday June 25 with his special brand of entertainment. A singing satirist, Minchin is widely known for his unique style, blending comedy, acting and singing into a lively performance, using all his own material.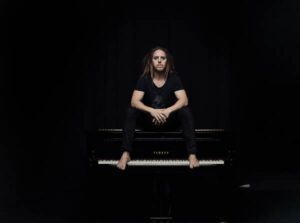 English born and Australian raised, Minchin started touring New Zealand in 2019, until the Covid-19 pandemic knocked it on the head.
"This is the encore to that tour. and I'm especially thrilled to be coming to Christchurch. I hear a lot about it from others, about the rebuild, the amenities such as the town hall, and the people.
"My hope is that people in Christchurch are just as excited to come and see and hear me, to laugh and cry, and enjoy."
Minchin is not your standard frontman. He talks a lot more than the average musician, sings his own songs, recites his own poetry and opens up about life in the real world.
The 2019 tour was his first for eight years, before which time he dedicated himself more to song writing, composing music and stage shows such as the 2010 hit Matilda the Musical for which he wrote the music and lyrics.
On stage now, he's into anecdotal recitations, stand-up comedy and singing.
"In the old days, I would write about my anxieties, about what frustrated me," he says. "Now it's tending to be about more slice of life, songs about what happens around me, about cheese, public shaming, critical rather than political statements."
He still includes some of his old comedy favourites in his shows, but now also new songs that he describes as "heavy" and that tell a story. "There's quite a few songs off my new album, some angrier than usual."
He describes his act as a "funny cabaret show" and sees himself primarily as a musician and songwriter as opposed to a comedian. "My songs just happen to be funny."
Explaining the ethos behind his singular style, he previously said: "I'm a good musician for a comedian and I'm a good comedian for a musician but if I had to do any of them in isolation I dunno!"
On stage he cuts a distinctive figure, typically barefoot with wild hair and heavy eye makeup, often juxtaposed with a suit and tails, and a grand piano. Shedding his footwear makes him feel more comfortable, while his eye make-up helps to emphasise his features, gestures and expressions to audiences.
Much of his look and persona is about "treading that line between mocking yourself and wanting to be an iconic figure. Mocking the ridiculousness and completely unrealistic dream of being an iconic figure."
Did you know…
Minchin started learning piano aged eight but gave it up after three years. He started again after he began writing music with his brother, guitarist Dan Minchin.
He has performed live comedy internationally, and appeared on television in Australia, Britain, and the United States
Minchin was educated at Christ Church Grammar School in Perth
He attended the University of Western Australia and the Western Australian Academy of Performing Arts before moving to Melbourne in 2002
His show Darkside launched him into the public eye, achieving critical success at the 2005 Melbourne International Comedy Festival and the 2005 Edinburgh Fringe Festival
In 2013, Minchin played the role of rock star Atticus Fetch on Showtime's Californication
A documentary film about him, Rock N Roll Nerd, was released theatrically in 2008 and broadcast by ABC1 in 2009.
In 2013, the University of Western Australia awarded Minchin an honorary Doctorate of Letters degree for his contribution to the arts
In 2015, he was awarded a second honorary Doctor of Letters degree from Mountview Academy of Theatre Arts
Minchin was appointed a Member of the Order of Australia in 2020.
---