---
International border closures have not dimmed the lights on Canterbury's inimitable Bread & Circus Buskers Festival, which is this year celebrating talented performers from Aotearoa's own backyard. Until January 31, the vibrant street festival will showcase more than 30 energetic artists and performers at venues across Christchurch.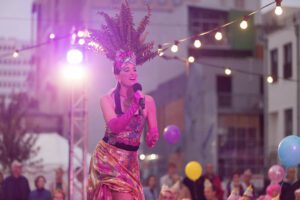 The line-up includes award-winning comedians like The Topp Twins and Jarred Fell, cheeky host and acclaimed entertainer Rutene Spooner, cabaret superstar Nomi Cohen, and world-renowned clown Fraser Hooper.
Other acts include interactive shows like Blackboard Theatre's musical quiz show, What the Quiz is this?!, The Biggest Little Circus, a five day workshop for aspiring teen buskers, and a busker-filled brewery tour.
Festival Director Scott Maidment says the 2021 lineup is a silver-lining to the disruption of Covid-19, as organisers can help locals rediscover the circus and musical talent here.
"The sheer breadth of artists available to us has meant that despite losing the 'World' in our title for 2021, we've not lost the 'world-class' from our programme."
ChristchurchNZ General Manager Destination and Attraction, Loren Heaphy, says: "At a time when cities around the world are struggling to hold public events, Bread & Circus is an epic celebration of arts and culture, and we welcome Kiwis from across the country to Ōtautahi Christchurch to see what the fuss is about."
Browse the programme and find showtimes or buy tickets at
www.breadandcircus.co.nz.
---