---
Design work is underway for the new central city home of The Court Theatre, signalling welcome progress for an anchor project outlined in the Christchurch Central Recovery Plan.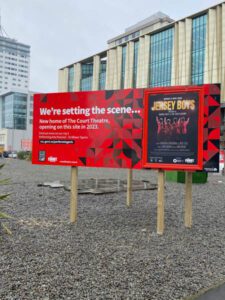 Local Athfield Architects have been chosen by Christchurch City Council and The Court Theatre to undertake the project and have revealed they'll be consulting with UK-based Haworth Tompkins which specialises in theatre design.
The new theatre will occupy the site on the corner of Gloucester and Colombo Streets – opposite both Tūranga library and Te Pae convention centre.
The theatre will form a part of the performing arts precinct outlined in the recovery plan, along with the Isaac Theatre Royal, the Town Hall, and The Piano event facility.
The building is expected to house a 360-seat auditorium, a 150 seat black box theatre, two rehearsal rooms, one or two education suites, administration, and excellent hospitality through its bars, coffee shop and eating areas.
Court Theatre Chief Executive Barbara George says the new theatre will provide facilities for local and touring performance artists and musicians, "and will play a critical role in attracting people to the city centre, generating economic activity and investment".
The Court Theatre is New Zealand's largest professional theatre company, and has been operating from an old grain storehouse in Addington since the 2011 earthquakes ended its tenure at the Christchurch Arts Centre
Construction is expected to commence on or before June 2021, with completion expected by late 2023.
---