---
A small coastal village with breathtaking views of towering snow-capped mountains and the vast blue Pacific Ocean, Kaikoura is a South Island destination which offers rich nature and cultural experiences.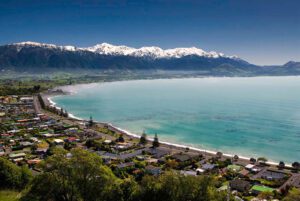 Visit the mountains, watch whales and dolphins, and take in the beautiful sunset while indulging in fresh, locally caught seafood – all in one day.
Just a two-and-a-half hour drive from Christchurch, two hours from Picton and 45-minutes from Hanmer Springs and Waipara – this local gem is practically on Canterbury's doorstep.
Accessible on the Coastal Pacific train or via bus and with quaint camping and accommodation options, make your stay an overnight one.
Make the most of the captivating scenery with adventure activities like whale watching, kayak tours, e-biking, llama trekking, 4WDing, mountain biking, escape rooms, helicopter rides, mini golf, fishing charters and white water river rafting. Stay in coastal campgrounds or luxury lodges, and enjoy the local hospitality scene at wineries, breweries and cute cafes.
Famous for the quintessential Kiwi fish 'n' chips on the beach, Kaikoura is also home to cool local breweries, wholefood cafes, delicious fresh ice cream and woodfired pizzas.
Seafood is the hero of most fare served in Kaikoura (which is named after the delicacy), with its famous crayfish available freshly caught and cooked, or to-go in an ice bin.
Wildlife spotting is also a popular pursuit in the coastal settlement, where New Zealand fur seals, Blue Penguins and albatross can be seen in their natural habitats.
Or, for a more up close and personal encounter, join a whale watching tour to see the Giant Sperm Whale, as well as Humpbacks, Orca and Blue Whales or jump in the water to see Dusky Dolphins.
Kaikoura is also a hot spot for romantic getaways or family trips, with secluded glamping and bed and breakfast options ideal for couples, or campgrounds, motels and rental houses for family groups.
Experience the mountains with an array of nature walks, or check out lesser known attractions like hidden art trails, the Kaikoura museum and cool little, local coffee shops and cafés.
Or, indulge in a luxurious massage or beauty treatment. A daily sheep shearing show is a popular attraction for children and those not familiar with rural life, and easy bike trails snake along the Kowhai River through native bush.
If you're driving to Kaikoura, explore the coast and countryside on the Alpine Pacific highway, where 450km of spectacular scenery winds past the wineries of Waipara, the alpine thermal pool of Hanmer and the wild surf of the east coast.
---