---
Gin Wigmore is using her extraordinary gravelly voice to speak up for the underdog. She tells Melinda Collins about a cause close to her heart.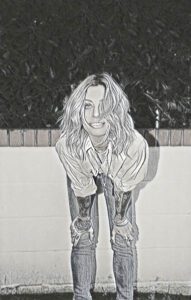 Gritty, powerful and just a little bit badass could equally be used to describe Gin Wigmore's music or her aesthetic and, while singing is still her first love, the Kiwi powerhouse who wrote her first award-winning song Angelfire at just 14 is now using her distinctively raspy voice to speak out and speak up.
Free for the first time of the constraints of a major label since her debut album, 2009's Holy Smoke, the Auckland-born, now US-based singer and songwriter is "elated!"
"Truly elated. It feels like I have come loose from the pack to ride on my own. And I love it!"
Symbolising the milestone, her newly-released single Hangover Halo, is about finding contentment in one's self, its inspiration drawn from "The lessons I have learned from youth into adulthood and in turn having a reflective moment on how simply being granted the opportunity to be born and exist on this amazing planet is one of a humbling and wonderful experience," she says.
"So for that alone, I must raise a toast to being alive."
Putting money where her mouth is, a portion of the proceeds of Hangover Halo are going to support Panthera – an organisation solely devoted to the conservation of the world's wild cats and their ecosystems.
"For this specific single I am focusing on big cats, specifically tigers, as they are facing near extinction," Wigmore explains.
"On a real basic level, I just think tigers are super rad and I don't want them to die out due to human exploitation. If we are the problem, we are also the solution. We must be vigilant in their protection against poachers. We must be vigilant in protecting their natural habitats and making room on this planet for all other beings so we can co-exist in freedom and peace. And this is exactly what Panthera does; they work to protect the natural habitats for these beautiful animals as well as implement intensive training programs to prevent and apprehend poachers."
The rest of 2020 will see Wigmore release a stream of music which will also support and highlight different endangered animals of the world and the animal charities that will be set up for donation in support of them.
But supporting the underdog has recently taken a literal turn for the long-time vegetarian. "I actually took the next step into a fully vegan lifestyle just a few months ago," she says.
"For me, being vegetarian was not enough. Dairy farming is equally as cruel and f***ed up in its treatment of animals to be able to satisfy the demand on a global scale, so I decided I wasn't going to be a part of that demand any longer."
Singing was always her first love and despite now adding 'hotelier' to her list of professional credentials with the purchase of a hotel in the desert in Palm Springs, it is singing that still has her heart.
It was music through which Wigmore first connected with her now-husband, musician Jason Butler, who heads artist-oriented collective 333 Wreckords, and released Wigmore's latest music.
"It's very comforting to be in a creative collective that I love, respect and share similar beliefs with," Wigmore says.
"I can 100 percent focus on my art without compromise and then completely trust the people working with me for their guidance, constructive criticism and approach to it all. It really is an awesome crew to be in."
Together Butler and Wigmore have been heavily involved with the #BlackLivesMatter protests recently. "It has been a very big and monumental moment in time on all fronts!"
"LA is showing me what it's made of right now," she says of her new homebase.
"It's loud, it's free and it's very powerful. The diversity, the perseverance for growth and change, the public outcry demanding justice for all and throughout all of this, there is a true feeling of community amongst the city. This is the precise reason I moved to LA and the reason I will continue to enjoy living here for many years to come."
Wigmore has always packed more into her life than most.
On top of the hotel and music-making, she's balancing a two-year-old, a newborn and an incontinent German shepherd rescue dog she added to the family just before the US went into lockdown.
"It made my world shrink overnight," she says of lockdown.
"It made me realise, almost instantaneously, the seemingly mundane outings were the ones I took for granted the most.
Something as simple as a walk along the beach to see the horizon and the expanse to our lives was taken away; something as easy as popping into the store to grab a loaf of bread was now a fear-inducing exercise of patience, rules and restriction.
"It has been tough mentally more than anything, but it has provided me with a huge amount of gratitude for my two healthy boys, loving husband, awesome dogs and generous friends."
---