---
The new three-story office building at 135 High St is a tale of two companies – Matt Stockman of Stockman Builders and Josh Watkins from engineering company Engco. Their combined effort really is a feat of engineering, which took around 12 months to complete on the site of the original heritage building which could not be saved.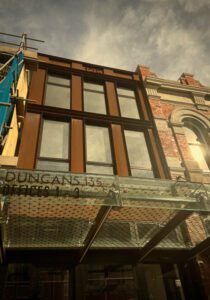 But, 135 High St was the first project of its kind for Stockman Builders, which has carried out award-winning restorations on a number of Christchurch heritage buildings.
"We knew we had to get an innovative engineer on the project and teamed up with Engco," says Matt.
"The 135 High St project was definitely a logistical challenge, the site being 4.8m wide," says Josh.
"It was a challenging, unique building to work on because it's a slender building wedged between two existing buildings and the suspended floors cantilever 2.5-metres over the footpath."
There were other challenges too, including weak soil that is susceptible to liquefaction and the construction methodology required a great deal of thought to mitigate any public health and safety issues.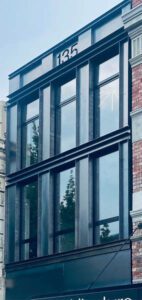 The result though, from the Stockman-Engco partnership is a modern, stylish office and retail space nestled in the heart of the city. And there is still retail space available next to some well-established retailers in the area.
Stockman group has a portfolio of more than 25 commercial buildings in Christchurch offering a mix of retail, office, hospitality, and industrial spaces.
Engco has expertise in structural, civil and geotechnical engineering services, and also has Green Star approved professional accreditation for their involvement in sustainable, energy efficient projects.
Covering everything from residential to large commercial projects, Engco can offer individual solutions specific to your build.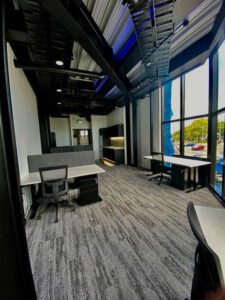 Contact Stockman Builders on (03) 977 4986, email rachel@kpistockman.co.nz or go to the website.
Contact Engco on (03) 366 7955, email office@engco.nz or visit the website.
---