---
A fire station is not the first place one would think to stay while on holiday. However, with the Hokitika Fire Station Boutique Accommodation, Hokitika heritage is combined with a distinctly modern flair.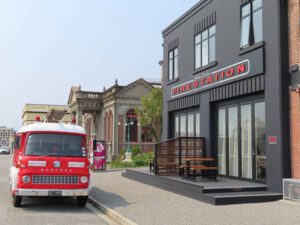 Originally built in 1866, the Hokitika Fire Station has stood the test of time, even being burned down and rebuilt four times.
Today, it has been lovingly restored as accommodation.
The history of Hokitika's fire services remain ever present within the iconic brick building, with oodles of firefighting memorabilia and nick-nacks lining the walls and the public areas of the Qualmark five-star deluxe apartments.
With three luxury studios upstairs and a three-bedroom family unit with added kitchen, and accessible apartment downstairs – each of the five apartments have been named after a fire chief who once led the Hokitika Fire Brigade.
Each apartment combines space, a modern en-suite bathroom and either a kitchenette or full kitchen.
The larger Chief Henshaw room has three beautifully kept bedrooms, dining area, full kitchen and living area. The ground floor Chief Millard apartment has full disabled access, a king-sized bed with additional queen size sofa bed with space for up to four guests.
History, beautifully kept apartments, décor, and five stars. What more could you possibly want from your stay in Hokitika?
"Hokitika Fire Station Apartments is also the only accommodation located in the Hokitika CBD to be given a Qualmark five-star rating," says owner Kerry Jeffs.
---