---
While the name over the door is Canterbury Exterior Plasterers, this little powerhouse company also creates beautiful interior feature walls.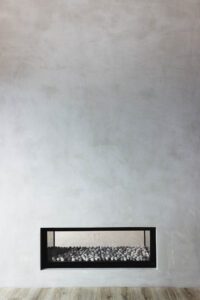 The concrete-look walls are made with Rockcote, a lightweight material which is able to be moulded into architectural and interesting shapes for an of the moment aesthetic popular with residential and commercial clients.
Finished in natural concrete colours, the wall is then clear sealed in gloss, semi-gloss, or matte.
"Our clients are creating feature walls in residential living and kitchen areas, and they are very popular in commercial spaces too, with a Christchurch gym recently installing them in changing rooms and reception," says director Scott Lee.
Plastering for 33 years, Scott and his team of five work all over Canterbury on commercial and residential properties, do EQC repairs, and are also helping to preserve heritage buildings.
"We did an interesting job using strengthening compound on a Hereford Street project just recently," says Scott.
In addition to exterior and interior plastering in Rockcote, the team are experts in large and small concrete finishing jobs, doing quality work and creating satisfied clients.
"I love the job, meeting contractors and clients, having the satisfaction of completing a job and being proud of our finish," he says."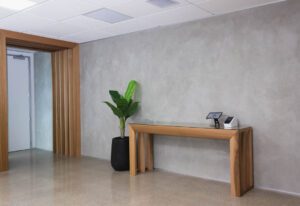 ---