---
By combining landscape with design, Wood Ltd create unique commercial fit-outs and civil landscapes that stand out, commanding attention, while seamlessly blending into their surroundings.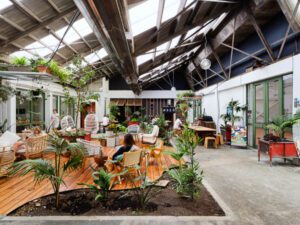 The Christchurch-based landscape company specialise in developing innovative, yet practical and liveable spaces that weave in the beauty of nature and environment.
Recent inner-city projects include The Welder courtyard – a stand-out with its bright, inviting colour palate, green foliage and timber flooring – and a magical rooftop playground at The Crossing Preschool.
Another specialty is designing and installing native living roofs and walls, like the one that has recently adorned the side of the Plymouth Lane courtyard (Cashel 'container mall' courtyard).
At every stage of a project, from design through to build, Wood Ltd works alongside the client and the underlying landscape, with a focus on design, sustainability and the use of quality products.
Proving they are adaptable to a wide range of design, fit-out, civil and residential build jobs, the team also uses the skillset diversity to design and build intrepid walking tracks such as those for the Pure Pod accommodation throughout Canterbury and are currently building a nature playground in Kirwee.
For more information, phone 027 783 5722 or email steffan@woodla.co.nz.
---