---
There's a new resident in Fendalton Village, and she means business! Specifically, the
kind that involves nails – whether that be painting or care tips.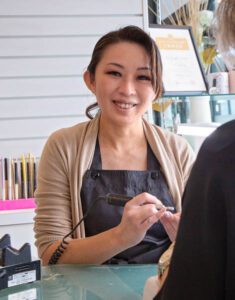 Eight months ago Tomoko Tsuji, owner of Nails by Tomo, set up a little station in Elegance Beauty Clinic.
And with the move came 23-years of professional experience and qualifications gained in Japan.
With Tomoko, it isn't just about putting on a pretty polish and saying goodbye to the customers. She wants to provide a more personal touch
"I don't want to just paint nails, I really want to help my customers with their nail care as well.
"Some of my customers have been nail biters their whole lives and I've helped them to change that."
Like with most treatments, it's not one quick fix or remedy. Tomoko says a large factor is your job and how you're using your hands.
She aims to "make the customer happy by strengthening the nails and ensuring there's less damage".
But there also needs to be credit given where it's due: Tomo paints beautifully intricate designs using high quality Japanese products.
To talk to Tomo, phone 022 194 6055 or check out her Facebook page.
---