---
Carve out some practical and aesthetically pleasing space with a wall recess. Maximising wall cavities, a well-thought-out recess adds depth and interest to bathrooms, bedrooms and indoor and outdoor living.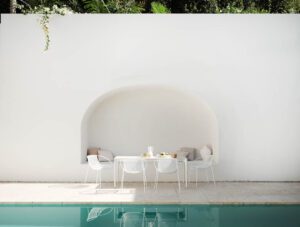 In the bathroom, recessed shelving in the shower can sophisticatedly store otherwise cluttered-looking products without employing a caddy.
In the bedroom, a wall recess can replace a bedhead and side tables by providing an interesting feature without scrimping on practicality.
In living areas, a wall recess can mimic a mantle piece, shelving or even seating. Outdoors, a recessed seat built into a wall or fence is functional design at its finest, providing a striking addition to al fresco dining and lounging.
Installing lighting on the roof of the recess adds extra mood to a space, helping to achieve ambiance subtly, without the need for fixed roof lighting or lamps.
And don't be boxed in either, explore curved and asymmetrical recesses for added artistic touches.
An obvious consideration with a wall recess is its execution, which would require a very handy DIYer or, more likely, a builder and plasterer.
However, if a new build or room remodel are in your sights – consider employing a recess to add long-term function, style and interest.
---