---
He proved us wrong about reality TV. Now married to the woman he met on the show, Matilda, the couple is about to celebrate their son's first birthday. Cantabrian and former The Bachelor New Zealand, Art Green, speaks with Metropol about love and life in the limelight, and moving his business home.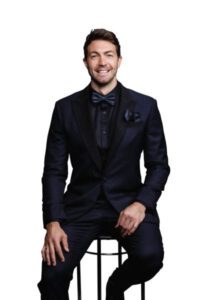 Art became a household name almost overnight as the inaugural The Bachelor New Zealand, but it's what he's done since which has cemented his status there.
It's been five-and-a-half years since Art gave Matilda her first rose, and the couple have now been married for 18-months and their son, wee Milo, is about to turn one.
And it's been a busy few years – all lived in the public eye.
With a commercially lucrative 270,000 followers on Instagram between them, the pair have both launched successful careers from their high profiles.
They have started paleo ready-made meal company Plate Up, recorded six seasons of their podcast Well & Good, and fulfilled a handful of television presenter roles between them.
Art has gone on to host The Bachelorette New Zealand, while Matilda has hosted Heartbreak Island. Both have written books.
"Going on The Bachelor put my life in fast forward," says Art. "And it feels like it wasn't until Milo was born that now it can slow down, and I can stop and breathe and spend time with him and Mattie."
That slow down means moving to Warkworth, north of Auckland and working mainly from home, where the decision was recently made to move production of Plate Up to Art's hometown of Christchurch.
"We have a lot of customers down there and we procure a lot of fresh produce from there, so it made sense to move it down."
Plate Up, like his other endeavours, is an extension of Art's passion for health, fitness and wellbeing – a lifestyle he's cultivated since childhood.
"It all started when I was little," he says.
"My dad's always been really fit and had a home gym, a bench made from beer crates and an old axle bar as a bench press. I'd hang out in the shed when he was doing that, and that's probably where my interest began."
It was that interest which saw him, after graduating from the University of Otago with a Bachelor of Physical Education, land a job managing an onsite gym at a mining site in Western Australia.
There, he worked four weeks stints on site in the middle of the desert, where had free reign of a gym and all his meals catered – and realised he was in the perfect conditions to turn himself into a science experiment.
"I started looking at all sorts of diets and nutrition and exercise schools of thoughts and started testing them out. I did keto, [meal replacement shakes] Isagenix, no sugar, and then I did paleo."
Known as "the caveman diet", paleo nutrition centres around the concept of eating whole, unprocessed foods.
"At first I thought it was bullsh*t, but the more I read about it the more it made sense and then when I started doing it, it had great results for me – I had lots of energy, I wasn't hungry
and was getting good results from training."
He became a paleo poster boy of sorts. He moved back to New Zealand and joined two friends who had started their own paleo food venture, Clean Paleo, which was successful until a malfunction at its Auckland factory ruined its entire manufacturing operation.
After a year of trading in administration, the business was recently sold to new buyers. The business' end was widely reported by the media, a fact Art has come to accept about life in the public eye.
"Our lives are certainly not private anymore. At the start I would go through stages with it, I used to find myself really not wanting to be held up as a role model, but it's just an inevitability, and now I'm absolutely fine with it.
"It's quite cool just meeting people out in the real world. People sometimes want to come up and have a chat with us, it can be quite a nice icebreaker, and I quite like it."
He says a recent Well & Good episode, where the couple interviewed controversial Australian celebrity chef Pete Evans, showed him how far he's come in dealing with the scrutiny.
"The social media side of things is a little bit more intense. It's definitely a transition from going to having a private social media profile to have tens of thousands of people watching everything you post.
"It can be volatile at times. Most recently, with the podcast episode, we got a lot of backlash and I think we handled it well not just professionally but for ourselves personally, too.
"I think that's just from years of experience being in the spotlight, and both dealing with these situations and being able to support each other."
When it comes to Milo, the couple have thought a lot about how they plan to raise a family with so many eyes watching.
"It's a really tough one to navigate, and we think it about it a lot, and thought about it a lot before he was born.
"He doesn't feature in any posts that we're undertaking to do with any brands or commercial stuff, and we've been trying to minimise the amount he's in any of our posts.
"We'll begin phasing him out of everything to do with social media once he's old enough to be recognised."
---