---
After a brief hiatus, thanks to a certain pandemic, Mike Pero Real Estate Fendalton franchise owners Kelvin and Jacqui are back in business … and it is booming.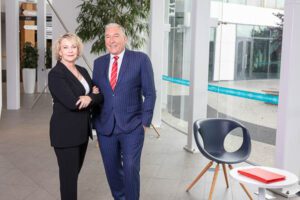 "It is an extremely exciting time for us. We're very motivated, stimulated and impelled by the current market," says Kelvin Howell.
The new home office set-up allows Kelvin and co-owner Jacqui McBride to make the most of their mornings, often taking the time to head out for a walk along the river before their busy day commences.
"On any day we'll be out organising the marketing of a campaign, arranging the dressing of a home for photo shoots, actual photo shoots and videos, attending viewings or open homes and then there's the writing up of contracts and negotiating," Howell mentions.
"While all this is happening, we're fitting in property appraisals, meeting new clients and helping buyers and sellers post-contract. We have a full administration, marketing and IT team assisting and without them we really couldn't put together the successful campaigns we have, but even then, we frequently aren't back home until late in the evening.
"Anything can, and does happen, and we never clock-off until loose ends have been tied up, and our people are happy."
And it is that drive that cements their business philosophy, that each individual client should feel satisfied the right thing for them has been achieved with good, honest professional integrity. "We believe that first and foremost we are working with and for people, while using our knowledge and experience to guide, help and support them."
For MPRE Fendalton, it is not just about being real estate specialists. "Our point of difference is that our brand works very closely alongside Mike Pero Mortgages which can also assist with insurance, if needed. It's a bit like a big family and we are just a small part of a large team.
"In addition, when a listing or a sale contract has been signed up, we work with our clients all the way through to settlement and possession, whether helping to organise and attend building or other technical inspections, assisting with or answering questions about finance, insurance, EQC, conducting final pre-purchase inspections and so on. This means that regular, prompt communication with all parties has to be a top priority, so we pride ourselves on our commitment to doing this, until the keys are handed over on settlement day."
Get in touch with the team using the details featured in the advertisement.
---