---
Most of us have seen his beaming smile on real estate hoardings and advertisements, and now Mike Pero takes centre stage weekly on TVNZ 1's The Apprentice, Aotearoa.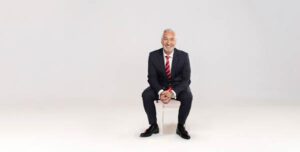 Pero definitely knows business – he should do, given he's made many millions of dollars for his companies. Aged 31 he launched the mortgage broking business that still bears his name and 20 years later expanded into real estate sales.
The winner of multiple business awards, he's a motorcycle enthusiast and a six-time National Motor Cycle Road Racing champion. And now a television star!
The prominent business mogul heads a team of advisors in The Apprentice, pitting contestants against one another in challenges to test their business acumen. The first episode aired last week and although the trademark smile makes an appearance, Pero's final words to failed contestants are still the familiar "… you're fired."
That said, the boardroom bullying that is a trademark of the original Donald Trump series in the USA, and Lord Sugar's UK style too, has disappeared as Pero, and his advisors Cassie Roma and Justin Tomlinson, take a more "Kiwi" approach.
"I made it clear that my appearance on the show was conditional upon me not fitting the same description given to Trump and Lord Sugar. The producers Great Southern TV agreed that I could say what I liked, within reason, and run the boardroom as I felt necessary. The only pre-requisite was I had to lose at least one candidate per episode."
His style is to offer constructive, educational and inspiring advice to those on the show and at home to apply to their own business endeavours. He's there to bring out the best in them.
"Yes, I have the difficult task of dismissing one candidate each episode and that was difficult, even from the first episode.
"I would go home feeling quite sad after a firing. The standard of candidates was so high.
"My last three words to all candidates was "[name] … you're fired!" I can still remember those words to each and every one of them. I'd like to add to those words and say "[name], you're fired, from this show, but you're going to continue to be a success. Go away now and show the world how good you really are – I hope we meet again!"
As to what he personally looks for in an up-and-coming business executive: "Like most Kiwi CEOs, all you want are good hard working team members that believe in fair trading, honesty, effort, commitment, drive and loyalty.
"The easiest way to succeed, I believe, is to recruit the right type of people from the beginning. You need people you can rely upon and people that will think like you – preferably smarter than you. They will be self-motivated and capable of making good decisions that bring value to the organisation."
Age, gender, religion and nationality have no bearing on success, he says. "I have employed all types – from teens to 70-year-olds, a number of religions and various cultures.
With youth you can get fresh ideas and entrepreneurs that haven't had a fall yet, but at the other end of the table I have found the wisdom that comes with age. The mature approach, often more cautious and not out there trying to earn a stripe. Women also bring a special intuition and a special sense that many men don't have.
"I always advocated at least one woman (or more) on a board. They tend not to be too focused on egos. We men are always out to prove a point."
---