---
Karen Glassey has spent her career helping people, and it is this caring philosophy which drives her approach to real estate. The Mike Pero Real Estate agent chats with Metropol.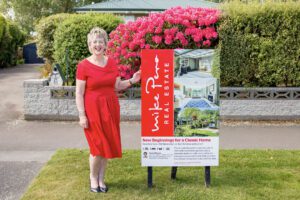 WHAT IS YOUR UNIQUE APPROACH TO REAL ESTATE?
"I care. I know that sounds really corny, but I actually take a real interest in my clients and their next step in the process. From meeting them to seeing them settled in their new home, I want the best possible outcome for them and really do go the extra mile. Once a lady needed a piece of paper signed, so I picked it up and drove it across town, got it signed, and then drove it back again."
TELL US ABOUT YOUR PROFESSIONAL BACKGROUND?
"I come from a retail background, and also worked for nearly 20 years as an office administrator in schools. I have always been in a role in helping people in some way shape or form. I truly want the best for people, and believe in doing the best by people."
HOW CAN YOU HELP PEOPLE BUY AND SELL THEIR HOMES IN CHRISTCHURCH?
"I have been a residential real estate agent based in Russley and Avonhead for three years, but can help people buying and selling houses all over Canterbury. There aren't enough houses for the number of buyers at the moment – so if you're thinking of selling, now is definitely a great time."
Contact Karen on 027 567 8605, 0800 527 364, via karen.glassey@mikepero.com, or at the website below.
---