---
COVID-19 has changed the way we buy and sell real estate. With social distancing and more people viewing and transacting property online, it has never been so important for your real estate agent to arrange exceptional virtual property presentations.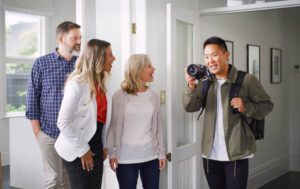 Now more than ever, professional video and quality still photography will help your home stand out from other properties for sale.
Compiling online audio-visual begins with still photography taken with a specialised lens and a video walk-through to showcase the property in more detail.
A drone-mounted camera provides the best angles and aerial shots, while dusk lighting and virtual staging provides the finishing touches to the presentation.
Preparation of the property for photo and video begins well before the day the photographer arrives.
It starts by considering your street appeal and building maintenance issues, decluttering and freshening up your decor and perhaps some professional staging.
How a property presents on a website as well as television needs to be kept in mind, as every listing with Mike Pero Real Estate gets a free television commercial, reaching thousands across New Zealand.
As your appointed agent, Annette Pendergast will advise you on the best way to market your property, including an overall online marketing campaign to ensure your home sells quickly and for the best price possible.
"I can provide objective advice on the presentation of your property, and help you prepare in advance and also on the day."
Annette is an experienced real estate salesperson with Mike Pero Real Estate in Christchurch and delivers strategic, successful marketing campaigns.
---