---
The jewel of a building at 94 Cashel Mall has earned a well-deserved win in the NZIA Commercial section local awards for Dalman Architects. A thoughtful project, it carries forward its place in Christchurch history while bringing beauty and interest to the promenade along the mall.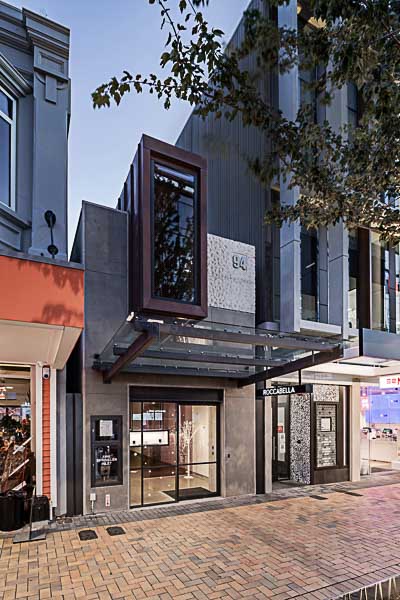 The original building was single storied, however the Christchurch City Council required at least two stories in the new design. "We responded by making this small building look bigger than it actually is; the façade is extended higher than it needs to be, and the tall oriel bay window further increases the building's presence as well as providing light into the space" says managing director Richard Dalman. Inside, the building incorporates a mezzanine floor designed for offices and facilities, storage, or retail.
The team cites the late Italian architect Carlo Scarpa as an inspiration in crafting the façade with pre-cast concrete and copper finishes. The interior enjoys a large volume and ply linings create a natural environment. The original building occupied the site for over a century. Its reincarnation references the scale and the long narrow shape of the original, while providing a stylish and modern commercial premise.
Consortium Construction was charged with making the concepts a reality. "We pride ourselves on our practical, pragmatic approach and being easy to work with. Although we tackle large projects, we are not a large corporate ourselves; relationships with clients are always number one and we strive to make the process as simple as it can be," says Brooke Whiting, General Manager.
Working with Dalman Architects on this job was so straightforward, says Brooke, "The site had its challenges and we worked closely with the team at Dalman's to carry it through smoothly."
The timeline was critical with concrete panels having to be placed before the next-door building was completely up. "The logistics were complex but it was enjoyable working in with the neighbouring build to make it happen."
For Brooke, the building is unique. "The exterior is different – the design incorporated unique concrete panel details in different finishes, plus the amazing copper piece that faces onto the mall, the effect is really cool. The street frontage is narrow and if you blink, you miss it, but it is so worth paying attention so you can appreciate the detailing," she says.
---