---
A hidden Banks Peninsula retreat captured the judges' eyes at the New Zealand Institute of Architects Canterbury Awards 2020.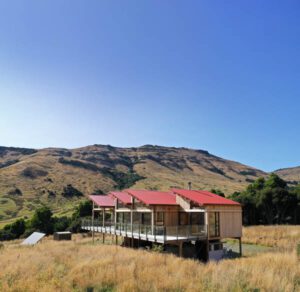 Architect Tim Nees has fronted New Work Studio for more than two decades and his latest project sits among 35 shortlisted for the Canterbury Awards.
The stunning design is one of 13 represented in the Housing category.
While Tim's clients were ensconced in their 135m dream home, judges had to forgo the usual onsite visits to projects, due to Covid-19 restraints.
Instead Tim was interviewed by phone to paint parts of the picture that photos could not express.
"Nothing beats being there – seeing, smelling, touching," Tim says.
"These aspects are the essence of a home. However, judges used photos and plans to get a sense of the experience of the home."
Tim recognised this achievement was a collaborative effort with his clients, and Huntley Quinn Construction.
"Huntley was a good, solid communicator and great solution finder."
The house is named Houhere, aka Lacewood, after a native tree common to the area.
Construction used little steel and concrete, and instead the sustainable build incorporated nature – macrocarpa, Douglas fir, purpleheart and larch.
Solar power, two water tanks, a generator, and gas heating was integral to the design – off-grid living is at this home's heart and reason.
---