---
By combining classic design elements and modern influences, Barry Connor Design's latest award-winning project is a stunning home, perfectly positioned amongst a private courtyard and garden.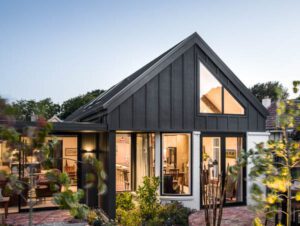 Last year, this Merivale property took home the 2019 Architectural Designers' New Zealand (ADNZ) Highly Commended Award for the Residential New Home between 150 and 300sqm category.
Located in a quiet residential setting, this single story, easy-care home takes influences from modern design with its open layout and curved windows, and more traditional styles.
"The site is framed along the road side by an existing boundary brick wall that curves into the site at the entry and this set up one of the initial cues for the dialogue of the concept design," Barry says.
"The classic heritage red brick wall references the past and so we set upon considering a modern interpretation of this for the new home."
Built by Mark Prosser Builders, the house is light, bright and open.
Efforts to maximise these elements have been enhanced at every design opportunity throughout the compact 11m wide site.
The main living, kitchen and dining spaces are located to the front of the home and open out to the main courtyard garden.
This allows year-round morning sun to filter through the house and creates a home that feels like it's a part of the garden, drawing adults, kids and dogs alike outdoors.
"At Barry Connor Design, we believe great homes begin with great design. And great design always begins with you."
For more information, phone Barry today on 0212035992, or email barry@barryconnordesign.co.nz.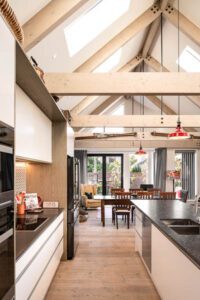 ---