---
International award-winning architect, Max Capocaccia of MCAS understands that buildings shape us as much as we shape them.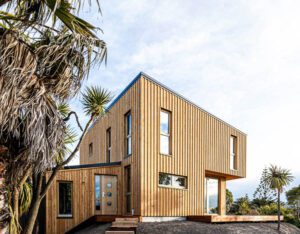 Max's aesthetic results in buildings that not only generate emotion, but perform as the healthiest environment possible for those who dwell in them.
His Rockinghorse Road project encapsulates this holistic approach: attention to detail has produced a home that performs to a very high standard, is energy efficient and does not require heating during winter.
An enhanced timber frame utilises thicker timber and an airtight membrane with interior service cavities to reduce thermal bridging and achieve airtightness and provide well above standard thermal performance and triple-glazed windows are a feature.
Clad in a combination of macrocarpa vertical timber board, and batten and shiplap profile, the three distinct volumes within the home are simple in their shapes, but the subtle complexity of Max's design means the house marries with its natural setting at sea level on the estuary.
"The main idea was to minimise the visual scale of the building through fragmenting mass," Max says.
The flood prone situation next to the estuary needed a solution and Max responded to the challenge by creating a small hill as a base for the second volume, with each volume connected by a bridge, smaller in scale, this volume includes the entrance.
"I love the way the three volumes relate to each other, it is a real accomplishment of creativity meeting context," Max says.
Peter Bielski Managing Director of Ethos homes built the house.
"He was thorough the whole way and communication was clear – it was good to talk through issues on site," Max adds.
Peter says, "working with Max was a good fit: his design was stunning and building high-performance homes is our forté".
Ethos Homes was born of a desire to bring Peter's experience of German high-performance homes to the market.
"Healthy, sustainable homes enhance the lives of those that live in them," Peter says.
Recognised as Certified Passive House experts in Canterbury, all Ethos projects are blower door tested for airtightness.
"We are passionate that every build provides the best in energy efficiency, health, comfort, and sustainability," Peter says. "I put my integrity on the line for every home we build."
---