---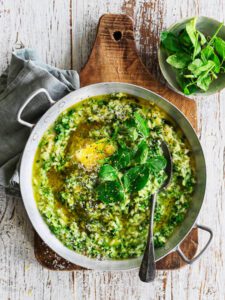 INGREDIENTS 
3 tbsp butter or neutral oil
2 onions, finely chopped
2 cloves garlic, crushed
1½ cups risotto rice
½ cup white wine
6 cups hot gluten-free
vegetable stock, plus a little extra if needed
1 tsp salt ground black pepper,
to taste
4 handfuls baby spinach leaves
2 cups frozen peas, thawed
1 cup grated parmesan
Finely grated zest and
Juice of 1 lemon
Pea tendrils or rocket (arugula),
to garnish
HERB OIL
1⁄2 packed cup fresh parsley, watercress or rocket (arugula)
leaves
2 tbsp extra virgin olive oil
a pinch of salt
METHOD
Puréeing frozen peas and adding them to a risotto just before it's ready provides this wonderful zing of freshness. You can also purée lightly cooked broccoli, zucchini or spinach and use them in place of the peas.
Heat butter or oil in a large, heavy-based pot, add onions and garlic and cook over a medium heat until softened but not browned (8 minutes).
Add rice and stir for 1–2 minutes to lightly toast.
Add wine and allow to evaporate fully, then add hot stock, salt and pepper, and stir to combine. Simmer gently, stirring now and then, until rice is creamy and just tender (about 18 minutes). If the mixture dries out during cooking, add a little more stock or water—it should be wet enough to fall from the spoon.
While rice is cooking, make herb oil by puréeing herbs with oil and salt, adding a little water if needed to thin to a pouring consistency.
Boil a jug of water. Place spinach and peas in a bowl, cover with boiling water and allow to stand for 2 minutes. Drain, then purée with a hand wand blender or in a food processor. Add to risotto with parmesan, lemon zest and juice, and stir to combine. Adjust seasonings to taste and warm through.
To serve, divide risotto between heated serving bowls and top with a drizzle of herb oil and pea tendrils or rocket (if using).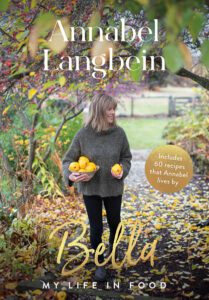 Extracted from Bella: My life in food by Annabel Langbein. Food photography by William Meppem. RRP$49.99. Published by Allen & Unwin NZ.
---