---
Caesar salad is one of those timeless recipes that everyone loves. Throwing everything into the oven to cook makes fast work of this fabulous recipe, and the dressing can also be made ahead of time.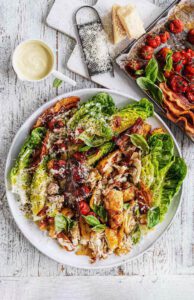 INGREDIENTS
Caesar salad
4 boneless chicken thighs, ideally skin-on
8 rashers streaky bacon
4 trusses cherry or truss tomatoes
Finely grated zest of ½ a lemon
3 tbsp extra virgin olive oil
Salt and ground black pepper, to taste
About ⅓ loaf ciabatta or sourdough bread, torn into coarse chunks
1 large or 2 baby cos (romaine) lettuces
A handful of fresh basil or flat-leaf parsley leaves, to garnish
Grated parmesan, to garnish
Caesar dressing
1 tbsp extra virgin olive oil
2 cloves garlic, crushed
5 canned anchovies, with a little of their oil
1 cup cream
½ cup grated parmesan (about 40g)
Finely grated zest of ½ a lemon
Ground black pepper, to taste
METHODS
Preheat oven to 200°C fan bake. Line two shallow roasting dishes with baking paper for easy clean-up. Arrange chicken, bacon and truss tomatoes on one tray. Sprinkle chicken with lemon zest, drizzle everything with oil and season with salt and pepper.
Arrange bread chunks on second tray, drizzle with oil and season with salt and pepper to make croutons. Bake until chicken is fully cooked through (20 to 25 minutes). Allow to cool for 10 to 15 minutes. While chicken bakes, make Caesar Dressing. Heat oil and sizzle garlic and anchovies over a medium heat for about 30 seconds, mashing up anchovies to a paste. Add all remaining ingredients to pan and boil hard until thick enough to coat the back of a spoon (about 2 minutes). Cool before use. The dressing will keep for a few days in a jar in the fridge. It thickens on cooling, so warm gently to loosen, or thin with a little water as desired.
To prepare the salad, cut lettuce into wedges or cut leaves in half and pile onto a serving platter. Drizzle with ¼ cup Caesar dressing and toss to coat.
Cut each chicken thigh into 3 to 4 pieces and each bacon rasher into four pieces. Arrange evenly over salad with tomatoes and croutons. Drizzle with more dressing, then serve the remainder in a small jug or bowl on the side. Garnish salad with basil or parsley and grated parmesan to serve.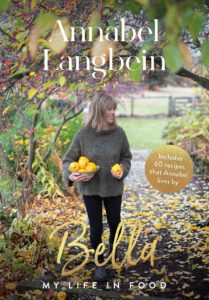 ---