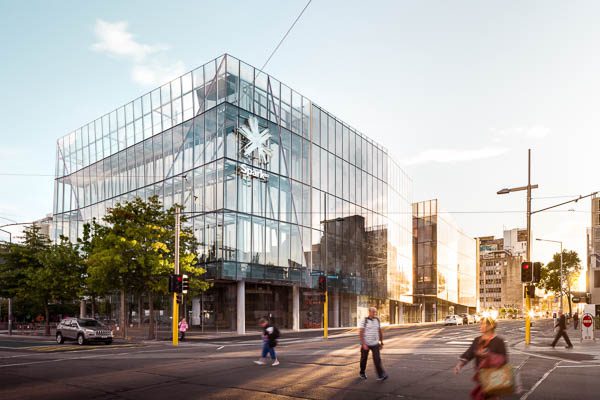 Spark-ling new streetscape
---
The advent of forward-thinking architecture in Christchurch provides consolation for loved structures lost, and forges a new identity for the city as a stylish and technologically advanced urban landscape.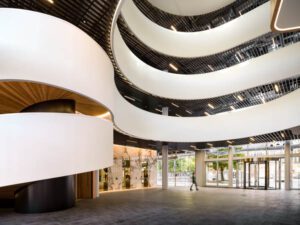 Sheppard and Rout Architects' graceful Spark building brings almost 500 staff from the suburbs to the centre.
Spark sought to play a part in the CBD rebuild, and Sheppard and Rout Director Jasper Van der Lingen congratulates Spark for the efforts they have made to be a key vessel in a thriving heart.
Sheppard and Rout was chosen through a rigorous process which called for proposals for site, building design and financials.
Jasper worked alongside Steven Orr, Matt Gutsell, Max Warren, Abigail Hurst, Ella van der Lingen and Rick Bennetts.
"We were thrilled to be selected. It is a great advance to have something alongside the Square to work in harmony with Tūranga, Te Pae and, of course, the Cathedral itself," Jasper says.
"The design itself is remarkable. Offices and ground-floor retail are joined by a bar and restaurant on the upmost level, with wind-protected roof-top terrace.
"There are views across the mountains and the Port Hills."
The building has a lightness to it created by a rare double-skin fritted glass façade which mitigates heat gain but promotes daylight and views.
The fritting provides some shade and the pattern is a cubist rendition of the Cathedral roof pattern.
"It reflects the surroundings and evokes Spark's role in the continuous flow of digital information," Jasper says.
Not just beautiful, this building is aiming for 5 Green Star Energy Rating. Base isolation means it can sway plus or minus 300mm.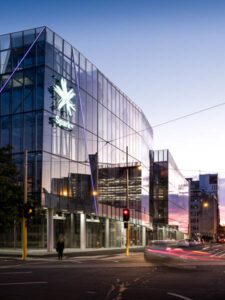 ---