---
A striking elliptical landmark on Durham street invites community to its impressive multi-purpose space.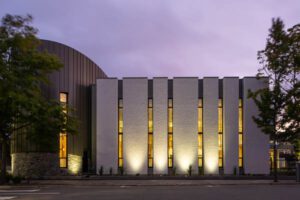 Aldersgate was the first stone church in Canterbury, owned by the Methodist mission. Its prior relationship with Quoin Structural Consultants gave confidence for the challenging redesign.
Although now a contemporary beauty, the original 150-year-old archway doors reopened on 29 February.
"It was a real privilege to be involved with recognising its history," Director and Senior Structural Engineer Gary Haverland, says.
Two seismically separate buildings – the chapel, and the auditorium with its adjacent administration areas – were built by Contract Construction.
"Although one the most challenging ground conditions we've worked on, 8m deep stone columns enabled a simple, shallow foundation," Gary says.
"We decided on an economical concrete-block exterior, exposed concrete columns and beams."
Two sizable feats of engineering were of note. The floating concrete auditorium floor, not tied into perimeter walls or the foundation, is exposed coloured aggregate, ground and polished.
Added black oxide creates a stunning marbled effect.
"The slabs, with heated piping, were carefully sawcut into sections. We took huge precautions to stop cracking," Gary says, "and were delighted with the result".
The chapel and the auditorium are separated by a 7.2m high operable wall.
"The 7,400kgs operable wall weight enabled the highest acoustic rating. A concert in the chapel and a choir in the auditorium wouldn't even hear each other. A very tight 10mm deflection tolerance for the supporting truss was required, so the foundation's settlement was monitored stringently before installing the doors, to prevent jamming.
Quoin, its name aptly meaning a keystone in an archway, has the award-winning ECan building among its portfolio. And now Aldersgate – an emotive and monumental achievement.
---