---
We've long recognised the importance of first impressions and, when it comes to selling your home, those first impressions really do count.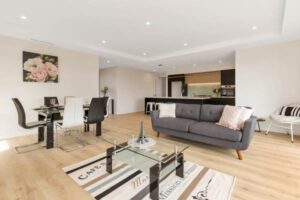 Staging is a way to put your home's best foot forward, impressing potential buyers and increasing their emotional attachment to the home, so you get the highest possible price and quickest possible sale.
Andrea and Peter Imboden from Jaz It Up had been selling spec homes in 2016 when Andrea realised it was the styling she enjoyed most.
"We've sold many houses over the years and I've styled them to get the wow factor. They've all sold really quickly."
When the professional photographers and real estate agents pointed out this very serious styling skill, the couple decided to go all in and they established Jaz It Up in 2017, doing exactly what the name says.
"Our styling is modern style, personalised and we use pops of colour to make your property stand out from the crowd," says Andrea.
"Colour attracts attention and interest."
The couple pride their service on being very reasonably priced, professional and they can turnaround jobs quickly, city-wide.
"We take a lot of pride in our staging and provide a warm and friendly service.
"When I finish a property staging, it's got to have that wow factor; that feeling when someone sees a house and thinks, 'I want to live here'."
If you need to dress your home in its Sunday best, phone Andrea on 021 026 82796 and Peter on 021 123 4418.
---