---
The appeal of natural fibres in the home refuses to wane, epitomised by the resurgence of rattan, cane and wicker furnishings. Playing into trending aesthetics of modern bohemian, rattan freshens up the mood of any room.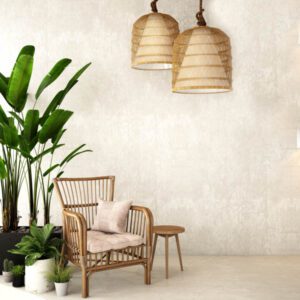 Airy and durable, rattan has been used in furniture design for centuries. The climbing vine, which grows mainly in southeast Asia, can be peeled off in strands and chiselled and hammered – often laboriously by hand – into flat rattan ready for weaving.
Cane is from the outer part of the rattan tree and the inner core, along with bamboo, willow and raffia, is often termed wicker.
While popular in the '70s, modern cane, rattan and wicker seldom features in full dining or lounging sets anymore – unless for outdoor furniture. Instead we're seeing more standalone statement pieces.
Think situational chairs with boxy wooden frames and webbed rattan insets, or buffet and side tables with the same style panelling.
When it comes to home accents, we're seeing baskets, bed heads, light shades, shelves, mirrors, trays and even book ends in the light organic wood composition.
These vintage vibes have been making a comeback for some time, and don't seem to be going anywhere fast – touted by Harper's Bazaar and Vogue as decade-defining.
Oft seen in the pages of the world's most stylish magazines and in curated social media feeds paired with soft, neutral fabrics and ever-popular indoor greenery, the light wood also lends itself to being coupled with bright pops of pinks, oranges and blues.
Statement or subtle, weaving rattan, wicker or cane into your décor will bring a little romanticism to any space.
---