---
When it comes to the perfect morning tea, specialist bakery Gorgeous Food's JoAnne Fryer says the humble scone is right up there in the popularity stakes. One that is frequently asked for is the cheese and chive scone.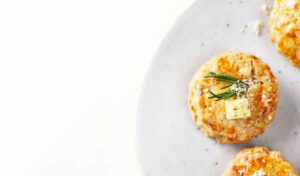 "If you're lucky enough to be passing by our doors around 6am, you can get them straight from the oven," JoAnne says.
Other firm favourites with customers are tasty savouries from the pie warmer; freshly cut sandwiches; slices cut into dainty bite sized pieces to pop in the mouth; and there's a posse of muffin-mad folk out there who can't get enough of the Texan muffin with plump blueberries or raspberry and white chocolate.
If you can't make it to Gorgeous Food for the most scrumptious morning tea ever, don't despair, for JoAnne has very kindly shared her recipe of Cheese and Chive scones with us. Yay!
Cheese & Chive Scones
• 560g flour
(season with salt, pepper and paprika)
• 8tsp baking powder
• Sift the above together.
• Add 150g grated cheese
• 50g shredded parmesan
• ¼ cup chopped chives
(or other fresh herbs)
Mix together and add enough milk (approx. 2 cups) to make a firm batter. Drop large spoonfuls close together onto an oven tray lined with baking paper.
Sprinkle with paprika, parmesan and grated cheese. Bake in preheated oven at 200°C for 10 to 15 minutse until golden brown and cooked through.
Find Gorgeous Food at 66-68 Springs Road, Christchurch
Phone: 03 344-6044
Hours: Monday to Friday 6am to 3.30pm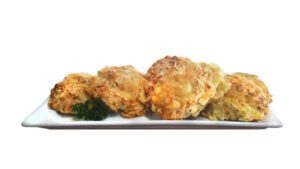 ---