---
There's nothing quite like spoiling the important father figure in your life with a homemade breakfast or brunch for Father's Day. This year, we're serving up a contemporary take on breakfast classics to help inspire your gastronomical gifts.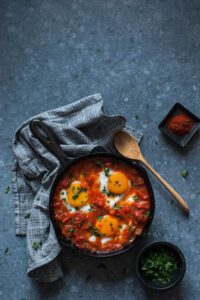 BUCKWHEAT WAFFLES
If dad or someone in your family is gluten-free, try some no-wheat waffles. Mixing buckwheat with a nut flour gives the traditionally sweet treat a more earthy, wholesome flavour. Top with fruit and coconut yoghurt for easy instant freshness.
BREAKFAST BURRITOS
Build your own breakfast burrito by loading lightly pan-fried wraps with scrambled eggs; avocado, tomato and corn salsa; spinach; bacon; coriander; some chipotle mayo – and a squeeze of fresh lime to zest things up.
SHAKSHUKA
Get some serious chef cred for whipping up some runny eggs poached in spicy tomato sauce, like those pictured. Team your Middle Eastern feast with some seedy sourdough, a dollop of sour cream and a sprinkle of paprika.
FANCY TOAST
Toast dad with a slice of the good stuff – some fresh loaf topped with a buffet of options. Start with a trusty smashed avocado base and introduce fruits like strawberries or figs; nuts and seeds; smoky roasted chickpeas; smoked salmon; red onion and cheeses like feta, haloumi or mozzarella.
SOMETHING SWEET
For those father figures with a sweet tooth, why not put your baking skills to the test with some cinnamon scrolls, custard donuts, or banana bread. If baking doesn't take your fancy, why not sample the goods from your local bakery – we won't tell it's not homemade if you don't.
SOMETHING STRONGER
Team your chosen cuisine with some hot coffee, fresh juice, or perhaps even a cheeky cocktail. Try classic brunchtime libations like a Bloody Mary, mimosa, or Pimms. Or, sample something new like a chilli margarita or espresso martini.
---