---
Recently recognised with a Travellers' Choice 2020 award from Tripadvisor, Rogues of Rotherham just keeps building on its reputation as one of the top eating establishments in Christchurch.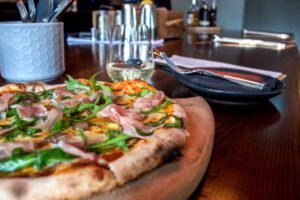 Dedicated to delivering a dining experience second-to-none, the key to Rogues' success is in its commitment to providing the ultimate in food, beverages, ambience and customer service.
With Riccarton being one of the most densely populated residential and business sectors in Christchurch, it's not easy for a restaurant to stand out from the crowd, but since opening in 2016, this eatery's popularity has consistently scored high.
Undoubtedly, the all-day menu is one of its biggest drawcards. Current hours provide weekend brunch (from 9am), lunch (Thursdays and Fridays) and dinner (Tuesday to Saturday), with plans to extend hours in spring.
Nor can variety be underestimated. The mouth-watering menu truly is a feast for the eyes. The choice of fare embraces all tastes – and all dietary requirements.
But there's something else about Rogues that not everybody knows. Concealed behind a covert door is a somewhat rare and fabulous find – a genuine speakeasy.
The aptly called Sneaky's Bar pays homage to the original speakeasy – a secreted room in which glamour, sophistication and intrigue ruled supreme.
With hours the same as Rogues', a rendezvous at Sneaky's Bar reminds you that life should be a celebration – of all that's the best and the best that's yet to come.
Rogues: 42 Rotherham Street, Riccarton
Information: info@roguesbar.co.nz
Phone: 03 341 5142
---