---
Just passing through or navigating to a destination, there's many a sight to see as you head north from Christchurch. Here's Metropol's picks of places to check out in North Canterbury.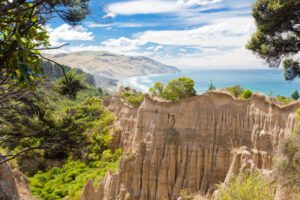 WAIPARA
The heart of the region's food and wine scene. Stop off at one of the award-winning wineries to sample the local delicacies amongst the region's rolling hills and romantic vineyards.
GORE BAY
You won't regret diverting from SH1 for 8km to see the breathtaking Cathedral Cliffs (pictured) at this popular surf beach. There's accommodation, campgrounds and public amenities if you'd like to stay awhile.
ST JAMES CONSERVATION AREA
There's nothing more grounding than getting out in nature, and this 78,000-hectare reserve near Hamner Springs offers just that. Hike, mountain bike, horse ride, ski, hunt or fish amongst glaciated valleys, streams, wetlands, lakes and picturesque tarns.
MOTUNAU
If you're a hunter-gatherer type in the mood for some kaimoana, this coastal settlement is beckoning. A popular blue cod fishing spot, experienced divers can try their luck – and craft – at nabbing a crayfish, or simply check out the abundant marine life.
MT LYFORD
Home to an excellent ski field, Mt Lyford's log cabin village is a quaint place to relax after an adrenaline-filled day on the slopes. Put your feet up at the Mt Lyford Lodge and enjoy some local hospitality in the restaurant and bar.
---