---
Nori Table is Christchurch's very own home of high-quality sushi and an excellent hangout spot – a must visit for all sushi lovers. First opening in 2019, Nori Table now has two locations: The Tannery in Woolston, and Williams Street, Kaiapoi.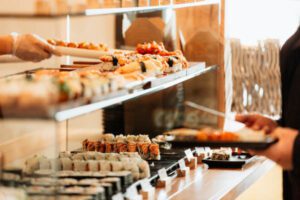 Nori Table is the creation of owners and operators Jini and Ted who pride themselves on making sushi of the utmost quality, with all sushi being made fresh throughout the day using top quality ingredients delivered that morning.
Their range of rolls and nigiri are designed to have maximum flavour and visual impact with generous filling in each piece.
Couple that with an array of options, including vegetarian alternatives, and there's something for every taste.
Enter Nori Table and you'll find a beautifully modern restaurant with a stunning glass cabinet meticulously filled with expertly crafted sushi.
Fill your own plate with those pieces that call out to you, or grab an eco-friendly takeaway box for lunch on the go.
No pre-packed plastic trays here! Plus, children love being able to pick their favourites.
"It's not only our customers that eat our sushi," Jini says, "We eat it and our family eat it…which means it needs to be perfect."
Nori Table is open seven days from 10am to 5pm, stop in to discover your new favourite sushi shop.
---