---
A modern office design within a heritage context and a dental practice with a difference has seen Dunedin and Wanaka-based architecture firm Parker Warburton Team Architects recognised in the recent 2020 Southern Architecture Awards.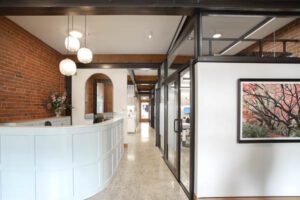 The work, completed for WorkSafe New Zealand and Dunbar Wilson Dental, respectively, has been recognised in the esteemed Te Kāhui Whaihanga New Zealand Institute of Architects (NZIA) awards with double honours for interior architecture.
At WorkSafe Dunedin, the firm transformed the interiors of the 130-year-old John Colours Ltd building using a series of installed boxed which slid below existing beam heights.
Meeting rooms and social spaces can close for privacy and fully open up to the main space, creating a flexible floor plan which can adapt to both day-to-day use and larger gatherings.
High security requirements were necessary and carefully integrated to achieve a safe yet welcoming experience.
Dunbar Wilson Dental embodies a departure from a traditional clinical space.
Existing exposed brickwork and polished concrete were added to with glazed partitions and bespoke joinery, all within an ergonomic configuration to allowed for the work of both dentists and dental assistants.
Carefully chosen light fittings, furniture and the client's artwork achieved the unique feeling of a boutique dental practice.
With over 40 years developing unique skills in designing residential, institutional and commercial buildings in Otago and nationwide, it is little wonder Parker Warburton Team Architects were able to deliver such results.
---