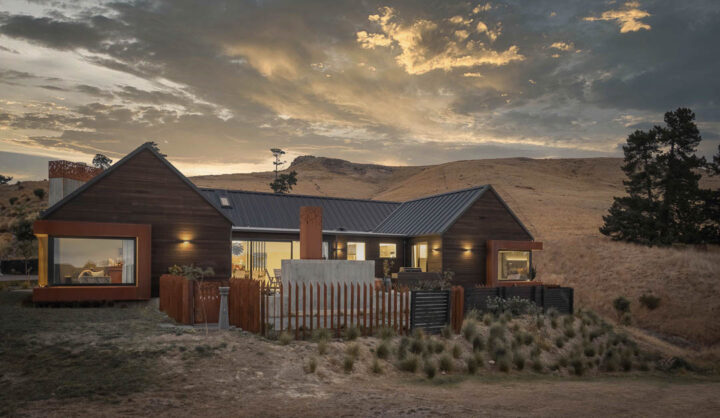 Hillside haven: AO Architecture X WD Build
---
This Richmond Hill home is a dream realised for its owners who had lived through post-earthquake flooding at their previous site. Designers of this dream are AO Architecture, and Michael John and his team are award-winners for this design that is totally at one with its surroundings.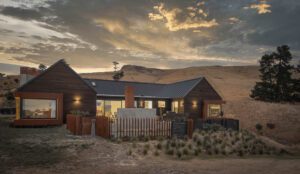 "It is a unique site, and we took our cues from the Port Hills," says Michael.
The grass is often browned off which generated the idea of using Corten steel, with its burnt brown finish.
The jagged outcrops above the Architectural Designers New Zealand house in grey basalt colour were picked up in the board formed concrete, while the dark cedar and roofing were used as a silhouette back drop to the Corten and concrete features.
"A pitched form was desired even though this was harder to create due to planning height restrictions, however this did play well with the jagged hills surrounding the site," says Michael.
"The gables also were utilised to their full potential forming vaulted interior spaces in the living areas and a study above the garage."
Exposure to the wind was a major consideration.
This led to the house being U-shaped, which provides an outdoor area that enjoys the views, but is protected from the elements.
WD Build took great pleasure in the architectural styling of the home, says founder Mitchell James.
"It was an interesting job with its cedar cladding, Corten steel, and great detailing such as on the seamless garage door, the cast concrete chimney and boxed Corten features around the windows," he says. "Michael's plans were easy to follow, clean with detailed specifications."
Architectural builders since the 1970s, WD Build is a small family-owned business on its third generation
"We are hands on, one-on-one with our clients, and have a great network of experienced, skilled subcontractors. We enjoy keeping up with building innovations, and on every job, small or large, we bring our emphasis on quality."
---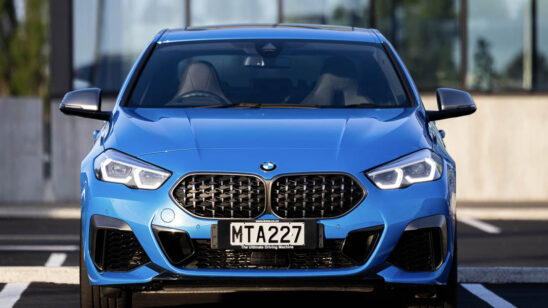 Next Post