---
When it comes to style, BMW have been pulling my heart strings for years. It was my second car and there is just something special about every new design model that comes out. This year is seeing a plethora of change, a shift personified in the 2 Series Gran Coupé.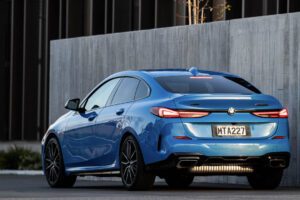 It is bold in character, stylish and refined all at the same time. I picked up the M 235i xDrive from Christchurch BMW and straight away noticed its agility, even in inner city driving.
M Performance means this car has a bit of bling: M sport brakes work stunningly, M sport seating in Dakota leather adds fit and comfort, and M sport steering handles with ease.
It really is the finer things. Not to mention, 0 to 100km/h in 4.9 seconds on an 8-speed automatic, four-cylinder engine. And a running torque at 45Nm.
I called it my little rocket ship, because that's what it felt like driving up to Mount Somers for the weekend. The open road was sublime in sport mode.
You feel like you're in a race car and that can be a problem as you look at the heads-up display and realise you should perhaps be going a bit slower.
"But you get lost in it; the smooth, effortless drive of an amazing performance vehicle.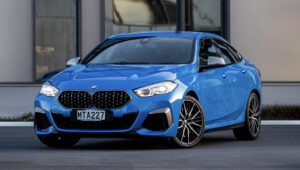 After being couped up with Covid-19, getting on the road with the Coupé is the ultimate driving experience. With a cost of $91,400 its performance felt closer to $150,000.
I had it in the Seaside Blue hue, which was not everyone's cup of tea but when we photographed it, you realise that that colour really does pop. But there are also nine other colours to choose from, just in case.
A phone app allows the car to automatically unlock when you exit or enter a prescribed unlocking zone.
Which may sound a bit silly, but this was one of my top features.
Did I lock the car? Who cares?! I never have to worry about that again!
Lastly, the panoramic sunroof makes it feel wide and open in the cabin. A stunning option to test drive.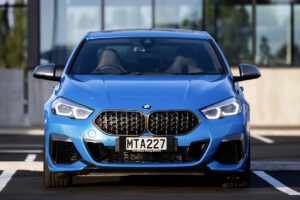 ---