---
One of the first houses on Scarborough Hill has had its original stonework character restored – with a contemporary touch.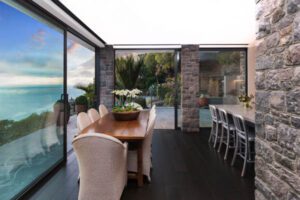 The stunning hillside home features immaculate bluestone sourced from the site itself and tessellated throughout the property.
Removed and remastered by Stone Works stonemasons at their Woolston site, the rocks – now returned – serve as mosaic cladding on the original side of the home, as patio tiling, dry stone garden walls, and – perhaps most strikingly – as exterior and interior columns.
Designed by Collins and Harman and built in the early 1910s, the two-storeyed residence had an extension added the late 2000s, just in time for the Canterbury earthquakes – which left both the original and new in disarray.
Now, its extensive interior and exterior renovations led by Jim the Builder have preserved the heritage character by adding steel structural supports; a hydronic heating system installed by Central Heating NZ over 75mm Integra Panels and covered by Calcium Sulphate Ezy Mix screed; energy efficient window glazing, and a Rockcote Integra lightweight concrete façade cladding system.
Company Director Jim Stenberg says the 18-month job required a precarious lift of the house so seemingly endless tonnes of loose rubble could be hand dug from the old foundations and removed via petrol-powered wheelbarrows along a custom scaffolding walkway.
"We had to dig until we found solid ground, which was 3.5 metres below floor level. From there, it was essentially a rebuild which also reinstated the house's original character."
A character which is most obvious in the gothic-esque stylised blue stone columns and an exterior bay window, which has become an interior feature since the extension was built around it.
Downstairs, a refit kitchen and dining area leads into a collection of sitting rooms: a sunroom with adjacent pergola; a ladies' lounge with restored wooden panelling, and a gentlemen's lounge which looks through the original bay window back into the living area.
Inside, the bluestone palette has been emphasised by Auckland-based interior designer Peter Lloyd, who worked closely with the owners to adorn the home with statement elements.
A denim blue feature wall begins in the kitchen and continues upstairs where the master and children's bedrooms are. A chandelier hangs in the "ladies' bathroom". Exquisite tiles line the bathroom.
Glass balustrades run up the internal stairs and along exterior balconies, ensuring the ethereal views along the coast and out to sea, where dolphins are known to chase herrings in the bay below, remain uninterrupted.
Contact Jim the Builder on 021444958 or at info@jtb.net.nz.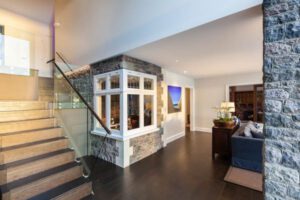 ---