---
Going grey? Don't conceal it… flaunt it! It's time to embrace the grey! We've pulled together some of our top tips for making a mane of grey your greatest asset.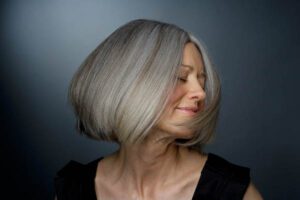 PART WAYS: When growing out your greys, it's recommended not to have a strong parting. As you can probably guess, having a straight even line makes the roots look more obvious. It's best to try and allow for your hair to fall at its natural position, then style it however you wish to blend in the baby greys with your other colour.
GOOD THINGS TAKE TIME: If you've previously been dying your hair to hide the grey, then the process of going from faux-do to silver fox won't happen overnight. If you're ready to grow out your greys, then there will be a six to 12 month growth period of 'awkward' greys, as your new natural starts to grow in. Why not lob it off and rock a bob or pixie cut so that the grey blends into your dyed or natural hair colour? Better yet, why not chat to a silver grey specialist like V For Hair?
EMBRACE IT! Going grey is all a part of the natural process! Women shouldn't hide their signifier of a long and hopefully happy life. Everyone lets their greys grow for different reasons; maybe it's too costly, too time-consuming or you're just over the harsh chemicals. For whatever reason you're jumping ship from the hair-dying days – it's time to embrace it!
DON'T FORGET TO WASH: There are shampoos on the market specifically designed for silver and grey hair. Their job is to cleanse the hair, remove any brassy tones and strengthen your luscious locks against the harsh environment. L'Oreal Professional serie expert silver clarifying shampoo is an excellent product. Of course every head of hair is different and requirements in a shampoo and conditioner are unique to each individual.
---