---
Kiwis are serious about their coffee, and in a time where supporting local has never been more important Metropol catches up with local roasters, Coffee Worx, about the importance of supporting Cantabrian coffee connoisseurs.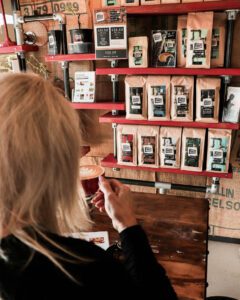 The coffee industry is very competitive. Many homegrown coffee roasteries are facing increasing costs and a saturated market.
Trying to compete with multinational coffee companies with a large market share, and even larger marketing budgets, can be a real challenge, says Coffee Worx Co-owner Deborah Riach.
"Small local businesses are having to battle being squeezed out by these large corporates, especially in supermarkets where shelf space becomes more difficult to secure against the 'big boys'," she says.
There are a number of Christchurch-based roasteries that have sold to large national and multinational businesses and all the profits are now being re-directed away from Christchurch to larger cities in the North Island as well as overseas.
"The Covid-19 crisis has made us realise we can look closer to home for high quality products that keep our local economy moving.
"Therefore, wherever you see local brands consider giving them a try, if you enjoy what they offer, you are strengthening and securing the commitment and expertise of local businesses into the future."
As a local company with a proven track record, Coffee Worx are proud to be able to offer our award-winning coffees to the local market in Rangiora and Wigram.
---