---
Wardrobes are, for many of us, in a constant state of evolution. Thankfully new talent is always on hand to satiate the need for the seasonal metamorphosis as we seek to renew, refresh and restore our sartorial stock.
Millie Pux-Askew is one of the country's prodigious design talents and, with her new 11-piece collection 'Waiting for Summer' now available instore at Ballantynes Contemporary Lounge and Ballantynes' online store, she will be playing her own role in this stock-up.
Millie shot from being a design student working on the outskirts of fashion, to being mentored by some of the industry's finest, after winning the 2018 Ballantynes Emerging Designer Competition last September. Inspired by romanticised memories of summer during the cold winter months, Millie's 'Waiting for Summer' range is a refined extension of the collection that won the 23-year-old the Ballantynes' Emerging Designer title, a competition which attracted significant national interest and was judged and supported by fashion industry heavyweights such as Karen Walker and twenty-seven names designers Rachel Easting and Anjali Burnett.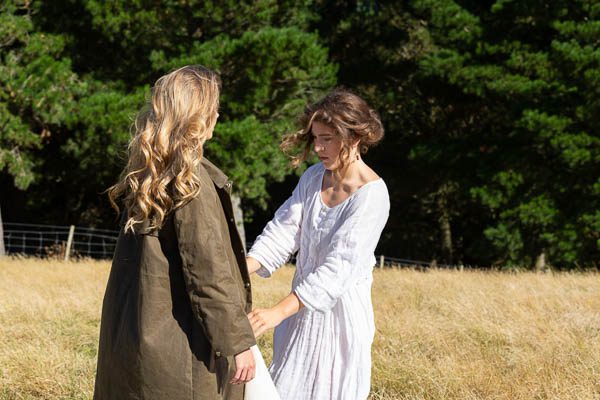 Millie says her collection is inspired by the feelings of nostalgia you grasp onto throughout winter months. "The fabrics and silhouettes speak to this feeling, with a strong contrast between soft handwoven cottons and heavy-duty oil skin fabric." The Ballantynes Emerging Designer Competition win also provided Millie with more than $28,000 in materials, publicity and mentoring from some of New Zealand's most successful fashion industry insiders, with support from some insiders of her own. "Mum and dad have been here on a few late nights helping me sew buttons or cut out fabrics – their support has been amazing.
"All the garments have been made in Wellington by myself or my machinist. I felt it was really vital that, especially for my first collection, I was really involved. I wanted a grasp of the full process." And even though her eye for design has been long-running – she hand-sewed her first t-shirt when she was 13 years old (a project Millie says was a disaster) – the idea of having her own label seemed like a distant, unattainable thing. "The Ballantynes Emerging Designer competition has really pushed me to give it my best shot. It's made me realise that it can be possible – it's been a huge opportunity to see what I can achieve with the support of the mentoring team and the incredible Ballantynes crew."
Ballantynes' Head of Buying Megan McKee says it's been incredibly rewarding to be part of Millie's journey so far. "The Ballantynes Emerging Designer judging team knew Millie offered a fresh and unique fashion perspective and this collection is just that. Her use of fabrics and the whimsical nature of her designs are beautiful, and we are delighted to being able to showcase her work. We have no doubt Millie Pux-Askew will be one of the next generation of Kiwi designers producing some of the best fashion in the world."
---