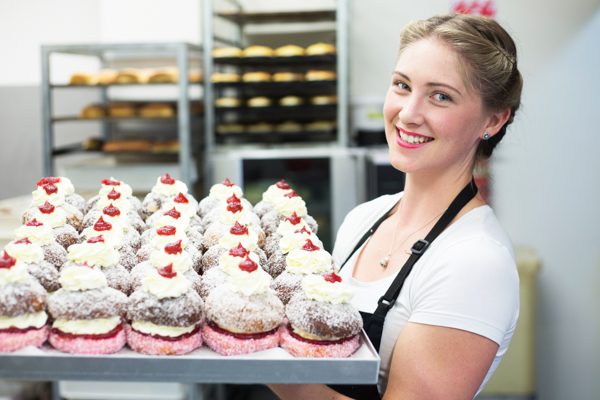 Sweet Taste of Success: We talk to Cake Goddess Bree Scott of Glamour Cake
Bree Scott's successful foray into baking has been a glamourous one since her sweet treats went viral last year. We talk to the proud owner of Glamour Cake about the sweet taste of success.
How did all this start?
My baking career started when I finished high school. At the time I wasn't sure what I wanted to do and dad offered me a position as his apprentice so I decided to go down the line of baking!
What has been your most successful creation?
The donut! When I started Glamour Cake I designed wedding cakes and birthday cakes and loved it, but as I carried on I decided it wasn't what I wanted to be doing. So I started creating cheesecakes which started to take off and I decided to give donuts a go. This was the winner.
It started off with the Mars Bar cheesecake donut and it went viral. Then the following started to grow; 12 daily donuts of a particular flavour turned into 80. Then I started getting really creative with flavours and designs and one daily flavour turned into eight and 80 turned into hundreds!
My favourite donut is the 'Leamington'. With the combination of cream and jam laced with chocolate and raspberry glaze smoothed in coconut. Yum.
You became an overnight sensation, but your success hasn't come out of nowhere. Tell us about your family's baking background?
It's actually taken me four years to get Glamour Cake to where it is today; a lot of hard work, tears, patience and sacrifice. If it wasn't for my dad I wouldn't be where I am today!
My dad has been baking for over 40 years, roping mum in when we were at school to help out. School holidays I'd be up at gosh knows what time, dressed, ready and waiting in the kitchen for dad, hoping he'd let me go in and help bake. As we all hit high school getting up early became normal as it became our job as hired help. So when it came to leaving school and thinking about what I wanted to be, baking was the last thing on my mind as it was almost second nature.
Mum and dad have an amazing success story, going from a struggling family doing everything they could to keep two business going – the Clyde Bakery and Hillyer's Café, only to sell it all and risk it on what dad could see as the next big thing – buying the Woolston Hot Bread Shop. People would queue down the street to get them as they were the only shop open over weekends, as there was no weekend trading.
They both worked so hard; dad running the business while mum is running around making sure dad would still see us kids, bringing us into the shop just so dad could drop us off at sports on a Saturday and watch our games. Mum would take over from dad and work so we could still have family moments. It's amazing what dedication, hard work and support from others can help you achieve.
Where do you draw your sweet inspiration from?
To be honest I'm not 100 percent sure how I come up with some of my donut designs. I just have a particular way I like things to look and if I don't like it I start again until I'm happy with the final outcome. Sometimes I have dreams of ideas and wake up in the morning and go into work and try and create it. It's not a winner every time, let's just say that much.