---
Canterbury's Bridget Hope is behind beloved boutique Magpie Style, and her Cup Day look inspired our cover. She chats with Metropol about all things style.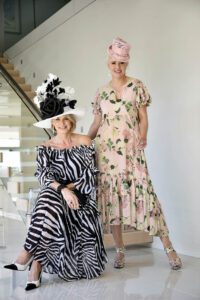 Magpie Style stylist and model, Marga Bastings, wearing hat by Seventh & Fig, outfit by Paula Ryan. Wardrobe Director, Bridget Hope in Neil Grigg hat and Trelise Cooper dress.
You looked incredible! Describe your raceday outfit – from hat to toe – and what inspired the look?
Thank you! Cup Week is such a wonderful opportunity to dress up, and this year was no exception! Dame Trelise Cooper made me my dress, and we were so happy with the results its been added to the Trelise Cooper holiday collection in two colours, which we will be selling in-store and online. My hat was designed by Sydney milliner, Neil Grigg, to match the dress.
You not only looked phenomenal at Cup Day, but you were a judge for the fashion competition at the New Zealand Cup Meeting on Saturday. In your opinion, what makes a winning race day outfit?
One word – effort. It's about that perfect recipe of dress or separates, hats and accessories. I always admire the time, energy and often, money, people put into their race day fashion to achieve a polished look.
What trends or new looks did you see coming through this year, and why did those stand out for you?
Every year hats are getting bolder and bigger: Fascinators are now taking a back seat and almost look wimpy compared to the large hats and highly decorated headbands. I thought Covid-19 may see a quietening of race day fashion, but I think the reverse happened – everyone went all out!
When you're not turning heads at the track, you're running a fashion empire. Tell us about your business and your exciting new Rangiora store.
We run three businesses from our new location in High Street, Rangiora; Magpie Style fashion boutique, magpiestyle.co.nz and paularyan.com. I am so happy to be in Rangiora, it has been wonderful working from a smaller town, and the people are so welcoming.
How would you describe your personal style?
My personal style is all about prints, I often complain that my own wardrobe has so much action and not enough quiet! I am a total magpie in that I love anything sparkly, bright and printed.
We're at the start line of summer. What are some of the seasonal styles you're observing, or predicting, we will see for summer 2020/2021?
I continue to be surprised as to how animal print continues its reign every year and this summer is no different, but with cheetah and right through into accessories and scarves as well. I am also seeing a lot of white coming through. A top to toe white look can be so fresh for the festive season.
As we mature, our tastes and personal preferences evolve, too, but there have long been conflicting stereotypes around women dressing "too young" or "too frumpy". What is your advice for women to help them embrace new stages of life, without losing their style?
The only thing we really need to consider as we age is very short hemlines and cleavage. Other than that, I think women don't need to be too worried about dressing their age. I have sold some of our most flamboyant looks to women over 70. It's about having a level of confidence to own it and not apologise. Confidence when it comes to fashion is half the battle. If you have the confidence, I say own it!
What is your go-to style tip for anyone, whether they are already a fashionista or someone looking to evolve their wardrobe?
Buy the dress, but own the look!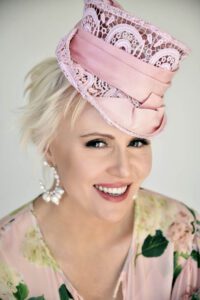 ---