---
For 30 years Christchurch City Choir (CCC) has enchanted audiences with its annual performance of Handel's Messiah, and following a year of disruption, this exultant masterpiece returns to the stage – with the presence of some returned overseas talent.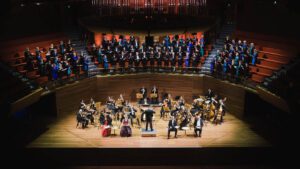 NZ based soprano, Anna Pierard, and mezzo-soprano, Catrin Johnsson, will perform alongside overseas based tenor, Oliver Sewell, and bass-baritone, Paul Whelan, who have both returned home due to Covid-19 restrictions.
These four internationally renowned soloists will sing with the 100-voice choir (including members of the Christchurch Youth Choir), and the Christchurch Symphony Orchestra (CSO), under the baton of Dr John Linker.
The history of CCC is 125 years strong, culminating in the 1990 merger of the Christchurch Harmonic Society and the Royal Christchurch Music Society.
Paul Whelan's CCC association goes way back. His mother toured Europe with the Christchurch Harmonic Society when Paul was a baby.
"CCC has been going for a long time; it's provided a strong sense of community and friendships. Choirs are so good for health – to make harmony with other people is a fantastic thing. For audiences, a choir going full blast, especially something like Messiah, it's a deeply visceral experience."
Some of the biggest names in New Zealand music have performed with CCC, including Dame Malvina Major, the Choir's Patron, Simon O'Neill and CCC's first conductor, Brian Law.
Board member Jo Dodgshun joined the choir in 1972. She remembers when Brian Law took over the choir 30 years ago. "One of the attractions in taking on the role was his being able to conduct at the Town Hall; Brian's first concert there was Messiah."
Jo says planning the performance programme through 2021 and beyond is nearing completion and there's much to look forward to.
"What I love about CCC is that it gets to tackle big symphonic works with the full choir and orchestra. We do incredible concerts, like the Proms with the CSO…and to be singing Messiah in our beautiful Town Hall again… that's absolutely wonderful!"
Handel's Messiah, 7.30pm, Saturday December 12 at the Douglas Lilburn Auditorium, Christchurch Town Hall.
---