---
High tea is the perfect way to spend an afternoon, whether it's a special occasion or a family event. Taking time out to indulge in the timeless art of catching up over tea (or bubbles!) and fancy treats served at your table is an increasingly popular option, despite its 'old-fashioned' origins.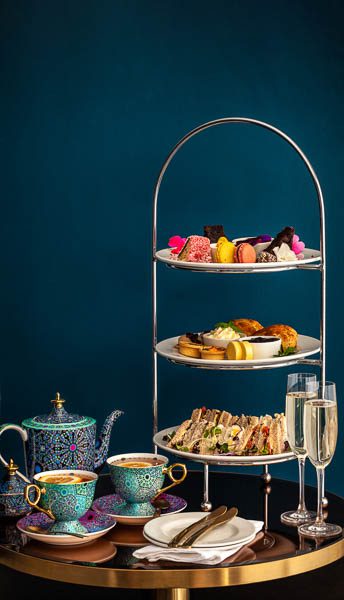 WIN: To celebrate the upcoming Showbiz Christchurch production of My Fair Lady 3-18 April, Metropol has two individual prize packages to give away, both include a sumptuous high tea for two people at Crowne Plaza Christchurch and tickets for a matinee of My Fair Lady at 4pm, Sunday 13 April, Isaac Theatre Royal. These packages are valued at $200 each.
To enter, head to the post on the Metropol Facebook page and simply tag your 'plus one'. Winners drawn 26 March.
---
Overlooking Victoria Square, Market Place Restaurant at Crowne Plaza provides the perfect setting to sip away the afternoon – pairing premium loose leaf T2 tea and expertly brewed Vittoria coffee (or Te Hana Reserve bubbles) with three tiers of sweet and savoury delicacies.
Highlights of the menu include freshly baked scones, assorted macarons and mini sandwiches, amongst other high tea classics.
Gluten-free and vegetarian options are also available on request.
Since opening in 2017, Market Place has been a popular spot for social events and celebrations over high tea and the venue also hosts a lavish Mother's Day event which continues to sell out every year.
Executive Chef, Hamish Watt, attributes the popularity of Crowne Plaza's high tea to the freshly baked scones.
"We use fresh whipped cream in our scone mix which makes them more golden and buttery".
High tea at Market Place is also the perfect accompaniment to the highly anticipated Showbiz Christchurch production of My Fair Lady opening 3 April.
An early afternoon high tea sets the scene perfectly for the 4pm matinees on 5, 12 and 13 April, with Crowne Plaza Christchurch just a short walk from the Isaac Theatre Royal.
For high tea bookings and information, head to www.crowneplaza.nz/hightea and for My Fair Lady tickets, visit www.showbiz.org.nz/mfl.
---