---
This very established suburb of Christchurch has seen the seasons come and go for well over one hundred years. Mitchell Coll, Architect at Coll Architecture has employed this continuity in this awarding-winning design in Chapter Street, St Albans.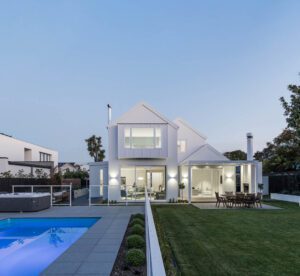 "We used white materials and variable textures to change the appearance of the building through differing times of the day and year," he says of the 338m2 property which won Canterbury/Westland Residential New Home over 300m2 in the Architectural Designers New Zealand (ADNZ), recently.
"As the sun moves across the building the shadows change to alter the overall appearance of the building, while the white reflects the colour of the sky."
The home is centred around the kitchen fulfilling the needs of a busy family. Functionality was key to the brief: The kitchen needed to be large enough to be used by multiple occupants simultaneously, with several access points and easy access to the outdoor kitchen and BBQ area.
Entering the home illustrates a generosity of space with a double height, light filled entry where shadows are cast from the timber internal and aluminum external louvred screens.
Sustainability runs through the design with detailing for energy efficiency.
Details include studsavers to reduce thermal bridging, upgraded insulation, the considered placement of windows, and a white palate to reduce overheating and reduce long-term maintenance.
Coughlan Construction built the home and Director Patrick Coughlan says: "It was great to be part of this project from the very start, and helping the owners through the complete journey meant we were able to provide a more client focussed home that meets their current and future needs."
Patrick's project management systems combine with the personal touch, which leads to a total living solution.
For the team, the build reinforced the importance of creating a partnership approach.
The result is a home with a great open plan flow – high doorways give the spaces a sense of connection when the doors are open, and this holds true not only internally but from inside to outside as well.
---