---
Designing security CCTV products is a critical job and Combined Security Solutions co-director Paul McCormick doesn't underestimate its importance.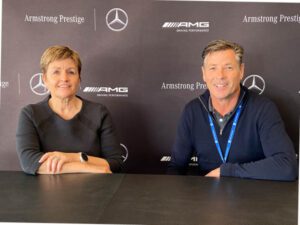 Using the correct camera and location for the field of view required is paramount.
This, together with the calculation of bandwidth along with hard disc drive storage of images and activity detection settings, all determine the end result of an installation.
A happy customer and a product that will provide evidence as and when required for years to come is the end goal.
After designing and submitting a proposal for Armstrong Prestige, the Combined Security Solutions team was tasked with installing security CCTV products with a mixture of 8 and 20 megapixel cameras with a network video recorder.
This enabled Armstrong's authorised users to view live and recorded footage from an easy to use smart phone app, not only for the protection of this prestigious dealership's assets, but also its staff and clients.
Working through the night until 5.30am with lifters and health and safety spotters – so not as to disrupt the busy day-to-day operations of the dealership – was required and achieved with a night shift team of five Combined Security staff.
Only being able to conceal security cabling within the wall cavities was a complex task but achieved with excellence. Veronica Armstrong says it was as though the system was installed when the building was built.
"The CCTV system Combined Security Solutions has installed is excellent and allows us to review site activity footage as and when needed.
"Combined Security was a pleasure to deal with from day one."
---