---
Including more plants on your plate is nothing new, but the global appetite for meat alternatives is tipped to just keep growing in 2021. A win for your health, and the environment, it's hard to fault this trending food philosophy. So here are Metropol's suggestions on how to up your plant intake and add a few new foodie tricks to your repertoire.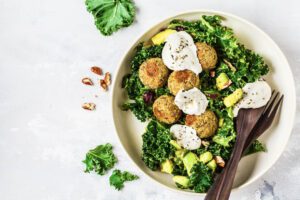 SEEMS LIKE SEAFOOD
Plant-based burgers are old news, and plant-based seafood is in, according to vegan media site, The Beet. Made with konjac, carrot and cellular agriculture (yes, lab-grown), there's plant-based tuna, crab and fish cakes.
"BACON" IS BACK
Finally, an answer to the, "But, what about bacon?" question often posed to plant-based converts. More and more plant-based bacon and pork alternatives are making their way onto shelves, in all their smoky-flavoured glory.
FLEX IT OUT
Don't fret if the idea of never touching steak again sends chills down your spine. Adapting a flexitarian mindset ensures you get to keep your rib-eye or cheese – just eat them in moderation. Start by making plants and pulses the heroes of your meal, instead of meat.
SO MUSHROOM FOR CHANGE
Already a rich and flavourful favourite, mushrooms are getting a meaty reboot for 2021. Mushroom meats resembling steak, meat patties and even braised beef are all the rage overseas. Keep an eye out for fungal proteins called Mycoprotein and mycelium, too.
---